When walking into a brick-and-mortar store, you'll likely notice well-designed, impactful displays highlighting their items for sales. The merchant is using visual merchandising to create the right environment for shoppers and promote their products. Today, with more revenue being driven from online business, eCommerce companies are discovering their own ways to " visual merchandise" rather than merely designing a clean, responsive site.
A positive first impression can set the tone for the entire user experience and determine business loyalty. It's crucial for merchants to understand their customer's needs and offer the right product or services at the right time. And that's where search merchandising, a.k.a searchandising comes in.
What is Searchandising?
Searchandising is a term combining search and merchandising. In other words, searchandising is the strategic arrangement of items within search queries or categories in order to optimize business goals, whether it be unit sales, profitable products, or something else.
Searchandising aims to place super relevant products in front of your customer, which then increases the likelihood that they will buy them. It's not only about product findability but becomes an active-selling tactic based on the principle that every shopper query is a retailer's selling opportunity. Let's look at a few benefits that a good searchandising can bring.
What are the benefits of combining searching and merchandising?
1. Improve relevance ranking in search results
The goal of on-site search engine is maximizing the business metrics such as sales or revenue generated directly from the products presented to buyers and minimizing the inventory cost by selling the items faster. To achieve this mission it has to provide the shortest path towards the most relevant products matching with user's purchase intent. Relevance, in e-commerce practice, is a concept which is relatively challenging to identify. It relies on different implicit signals, such as the psychological thoughts and knowledge of the users, the general business context, and the goal of merchants.
When a user search query matches a large number of products what items should be at the front? Traditional eCommerce site search methods based on ranking-priority of product attributes are unlikely to work well due to the gap between the product database and the business objectives. Some items on a lower search results page might get less attention by users, thus would then have to stay in the inventory for a long time leading to a stagnation and incurring extra cost. It is important to consider integrating the aspect of product findability with the ranking mechanism for eCommerce search. By combining merchandising with search online retailers now are able to inject their preference into product ranking for search queries and category pages.
2. Increase conversion rates
E-retailers can win more shoppers by making sure their customers can easily find what they're looking for. According to a recent research by Econsultancy, visitors who use site search can be as much as 50% more likely to make a purchase. Search users let merchants know what they want. Their queries represent opportunities for selling goods.
If a brick-and-mortar store has an elaborate window display to attract buyer's attention, online retailers can do the equivalence by using autocomplete search suggestions to promote visual merchandising. You could highlight on sales products or higher profit margin items that are most relevant to a searcher's intent. The use of product images not only provides a visual appeal but also takes users directly to the product page.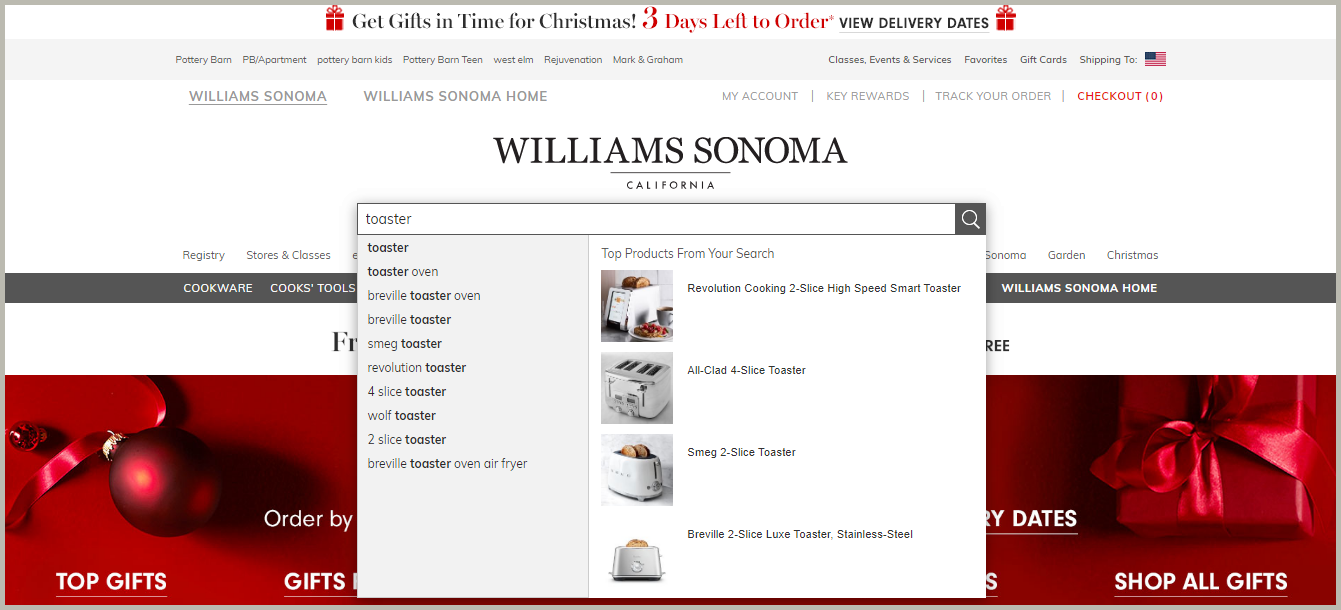 Credit: https://www.williams-sonoma.com/
Internet users are spending more time on site 'window shopping'. A great way to entice 'just browsers' is putting high-margin products in places where most shoppers look first such as categories or high-traffic pages of your store. Tap into your massive inventory to find the best sellers, sale items or seasonal products to make a smart merchandising display.
For example a customer visits Sears.com to find a new laptop. Upon entering Laptops category page, he can see various discounted products on the first page. The great bargain will switch the shopper from a 'just looking' mode to 'I should buy it now' mindframe.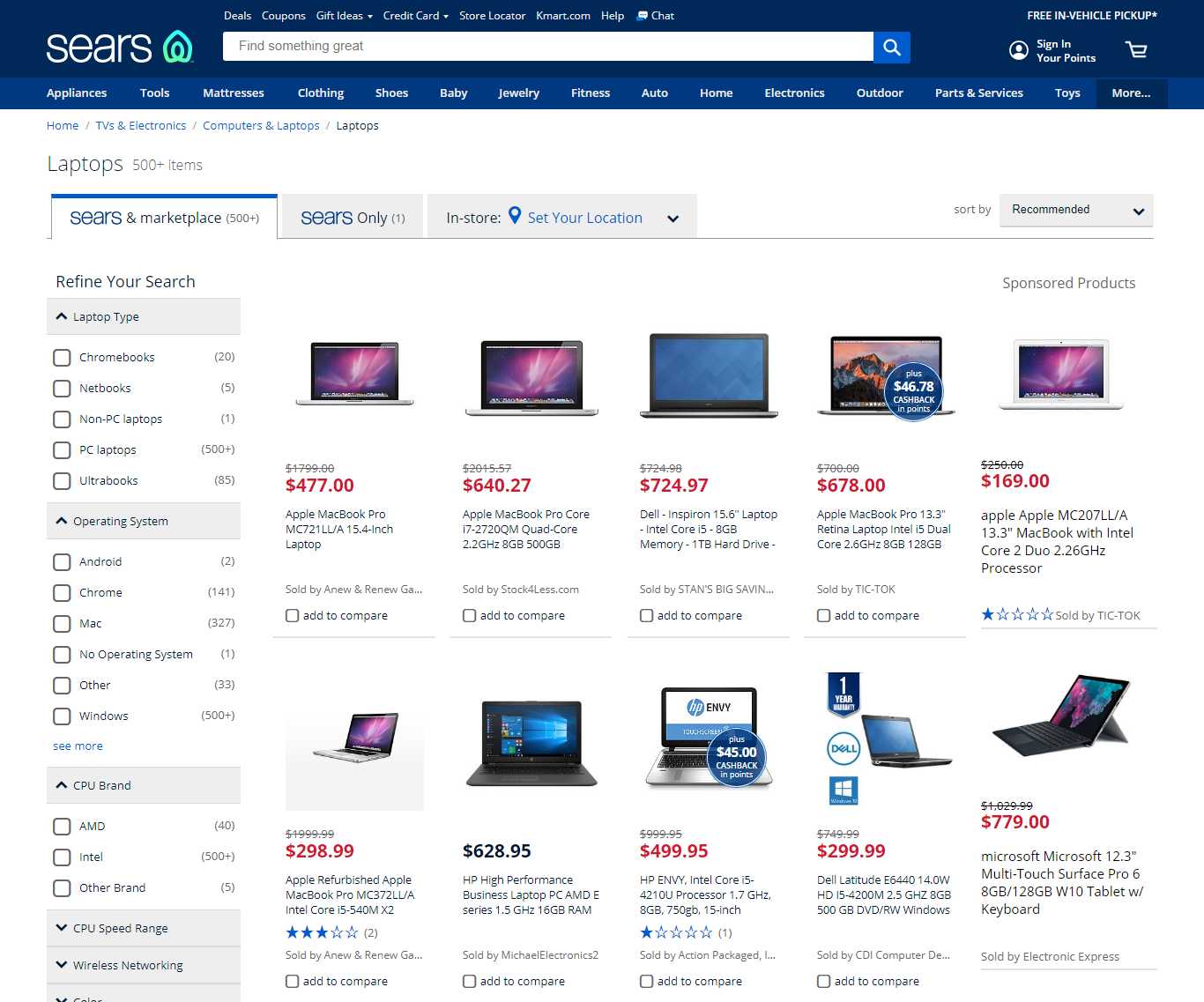 Credit: https://www.sears.com/
3. Boost sales
If merchandising is done right, it can boost sales and increase customer order value. Effective merchandising, whether at the front of your store, in point-of-purchase displays near the cash register or on shelves or at displays scattered throughout the store, helps shoppers notice products they may not have noticed otherwise. Plus, strong merchandising helps move more of your best-selling products and proven winners, giving you a way to make even more money as the goods fly off the shelves.
All techniques such as placing low-priced items in less prominent spots, promoting high-margin products, and prominent sale banners can help drive more profits while improving the shopping experience for customers.
Visual merchandising plays a significant role in driving the user experiences. Today online retail stores fight to deliver memorable moments and inspiration in the customer shopping journeys.
Getting presentation right, and making sure product page is optimised and appealing to the consumer eye is crucial in the internet environment. It was ever thus, especially when shoppers have many alternative places to purchase online if they feel unimpressed.
People like to stay loyal with the sites where they feel good. Merchandising creates exceptional experiences for your buyers and help you stay ahead of the competition, which has the potential to encourage repeat visits.
4. Create seasonal collections
The holidays provide online retailers with ample opportunities to boost their sales. Merchandising tool allows Shopify merchant to advertise seasonal products to users around special timeline to captivate them and create an online experience so compelling that they just have to buy it then and there.
Seasons have a great impact on shopper behaviour; therefore you need accurate forecasting to stay ahead of customer's expectation. Health and wellness retailers should pay attention to both Flu prevention and symptom relief in November - January when more people will do their best to steer clear of getting it. Apparel retailers need to be aware of Valentine's, Mother's and Father's days so that they can set up proper synonyms and suitable merchandise that customers could buy as a gift.
Look at the example from Johnlewis.com. They predict customer purchase intent in December by prioritizing the Chritsmas merchandise ahead of other 'home decoration' items in search results page.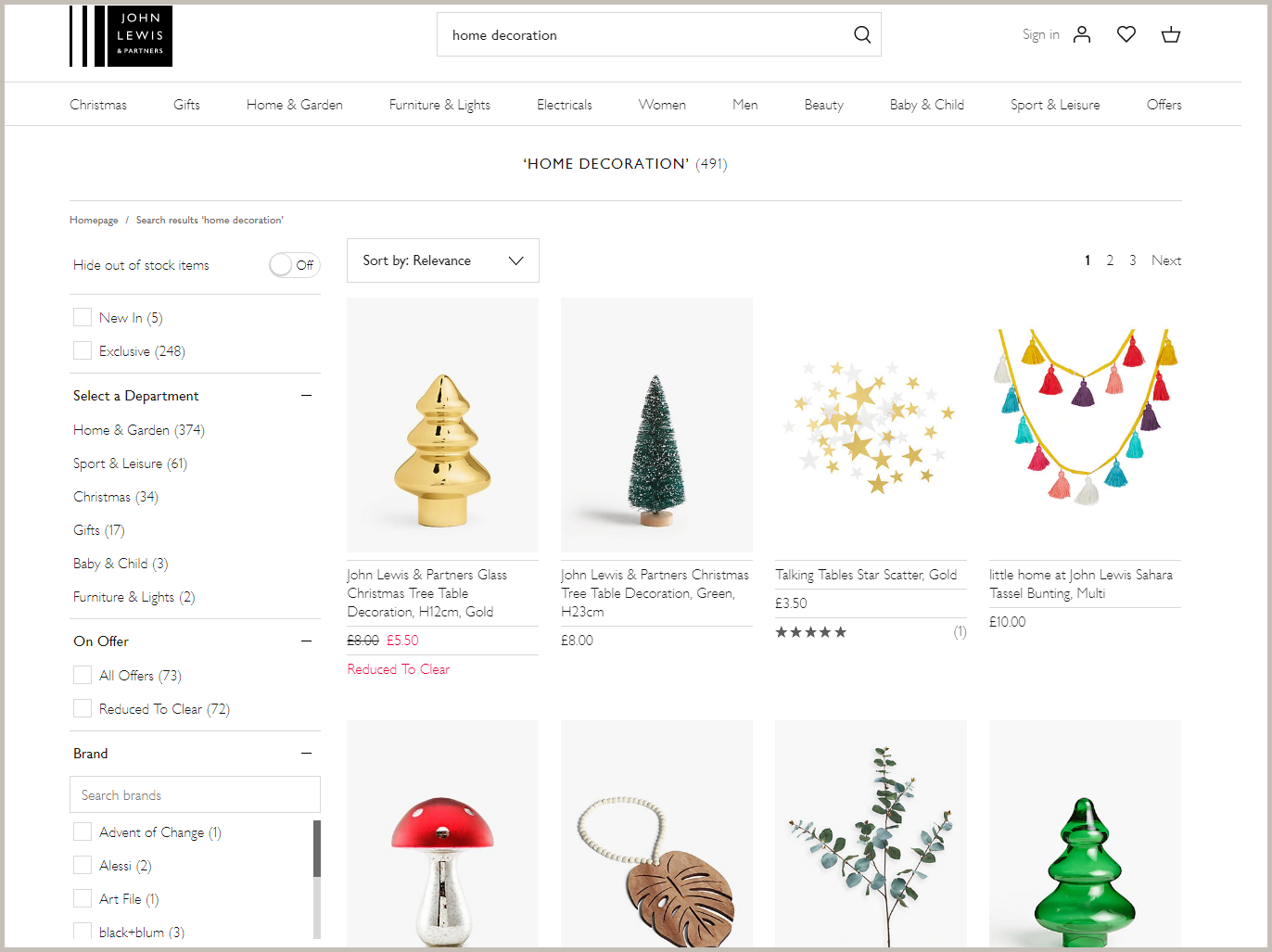 Credit: https://www.johnlewis.com/
If you want to incorporate merchandising strategies to turn your eCommerce business to the next level, then give these proven best practices a whirl.
Best Search Merchandising Strategies
1. Display product images in Autocomplete
You should optimize any touch point during online shopper's journey to give them a great user experience. Empower your search tool with visual merchandising instead of just text-only lists and results. When a customer types in a search term, take them to an autocomplete drop-down incorporating product thumbnails embedded with images and prices. The visual autocomplete can evoke user's interest and encourage them to click. It also reduces interaction cost and speeds up conversions as visitors can go directly to the product detail page and check out page in some cases.
For example, the Jomashop.com implemented visual autocomplete by showing the product image, title and price.This design pattern embedded products thumbnails ideally entices shoppers into making a quicker purchase.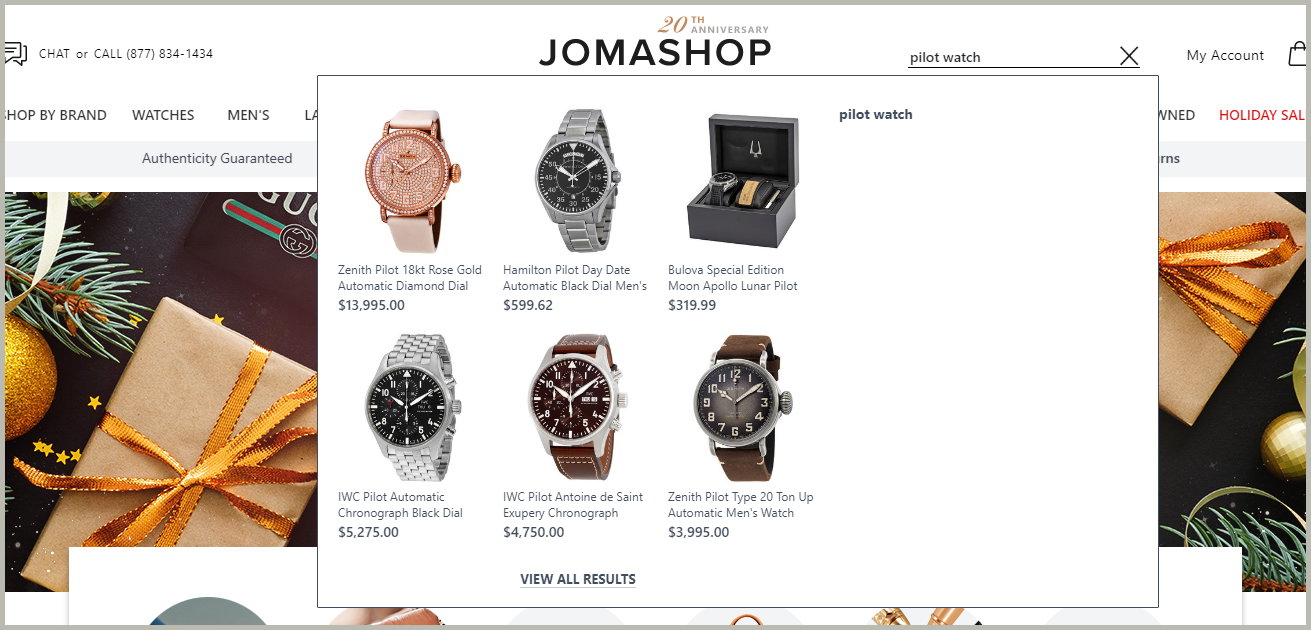 Credit: https://www.Jomashop.com/
2. Optimize product sales in collection and search results page
Optimizing your search engine around 'relevance' isn't enough for driving a business metric like profit, sales and inventory turnover. Instead, there are more tactics you can take to optimize customer's product discovery and influence their purchase decision in a specific buying context.
Pinned products
Pining products means that you want them to appear first in results for a search term or in the category pages. The most common use of pinning products is to manually promote specific products or setting up merchandising rules. Based on a mixture of preset rules and commercial input, the system will automatically decide which product to surface.
For instance, Walgreen attracts more brand awareness to their private label 'daily vitamin' by placing them on top in the search results page.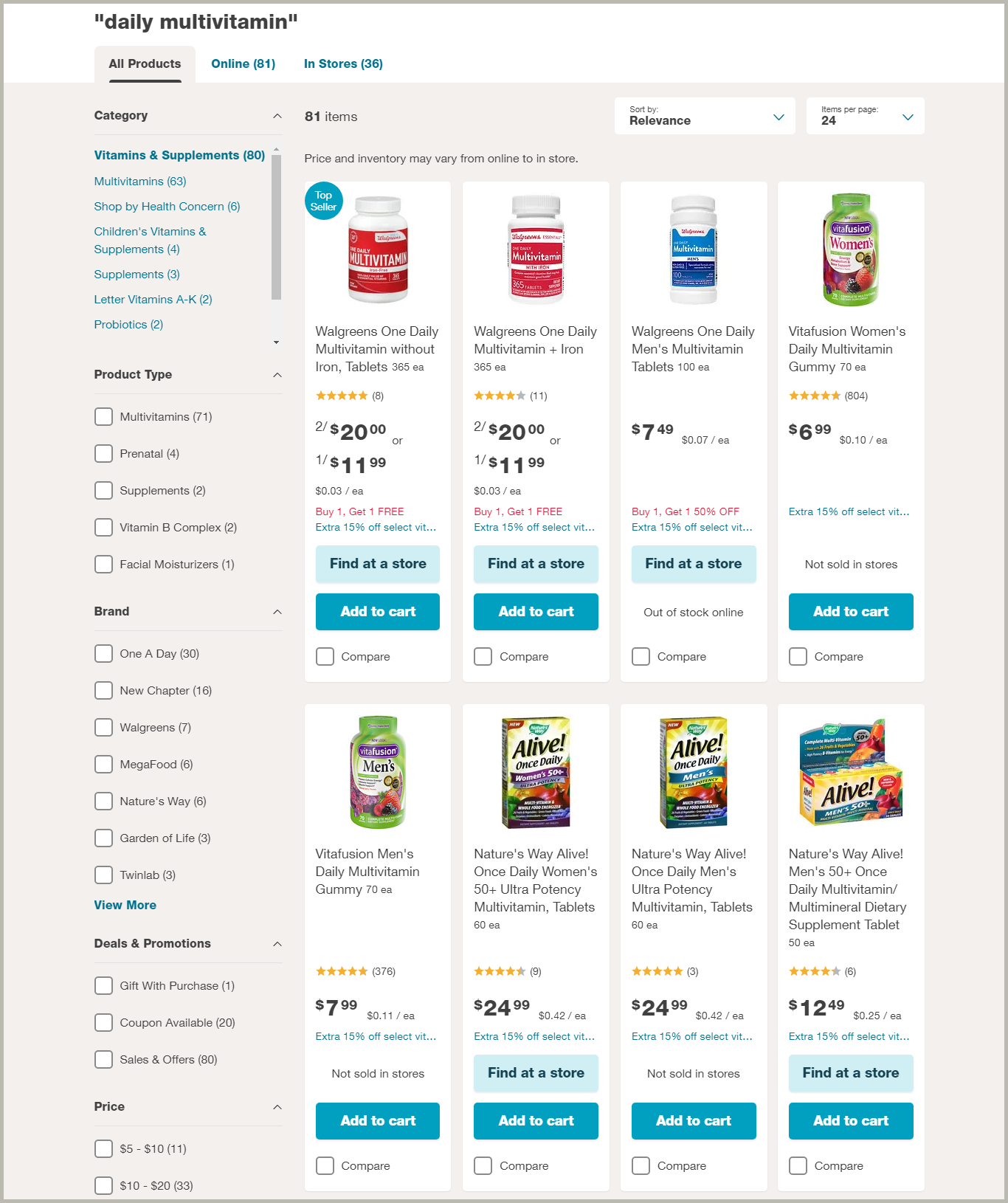 Credit: https://www.walgreens.com/
Boost and bury
'Boost and bury' allows merchants to algorithmically weight product ranking based on specific attributes, which can enhance the user experience and improve conversion rates. For example, an apparel retailer may want to 'bury' items for which most color or size variants are currently sold out, or "boost" higher margin products.
Today's online shoppers become loyal to the brand for what they feel, more than the items they can buy. The most effective way to connect with customers is reaching their emotions associated with the shopping seasons. Changing your setups throughout the year is essential to augment your customer's excitement in the shopping journey. You can rearrange the product display to give your store a fresh appearance.
When you are targeting multiple countries other than a global one, you have a potential issue with the product collection. While people in the United States look for sweaters, boots and jackets for winter their pals in Australia will pour money into t-shirt, sleeveless to welcome summer arrive.
For example, Uniqlo has Multi country sites serving customers in various regions. They applied this merchandising strategy for the search result pages and collection pages to tailor the look and feel of their stores matching with regional customers.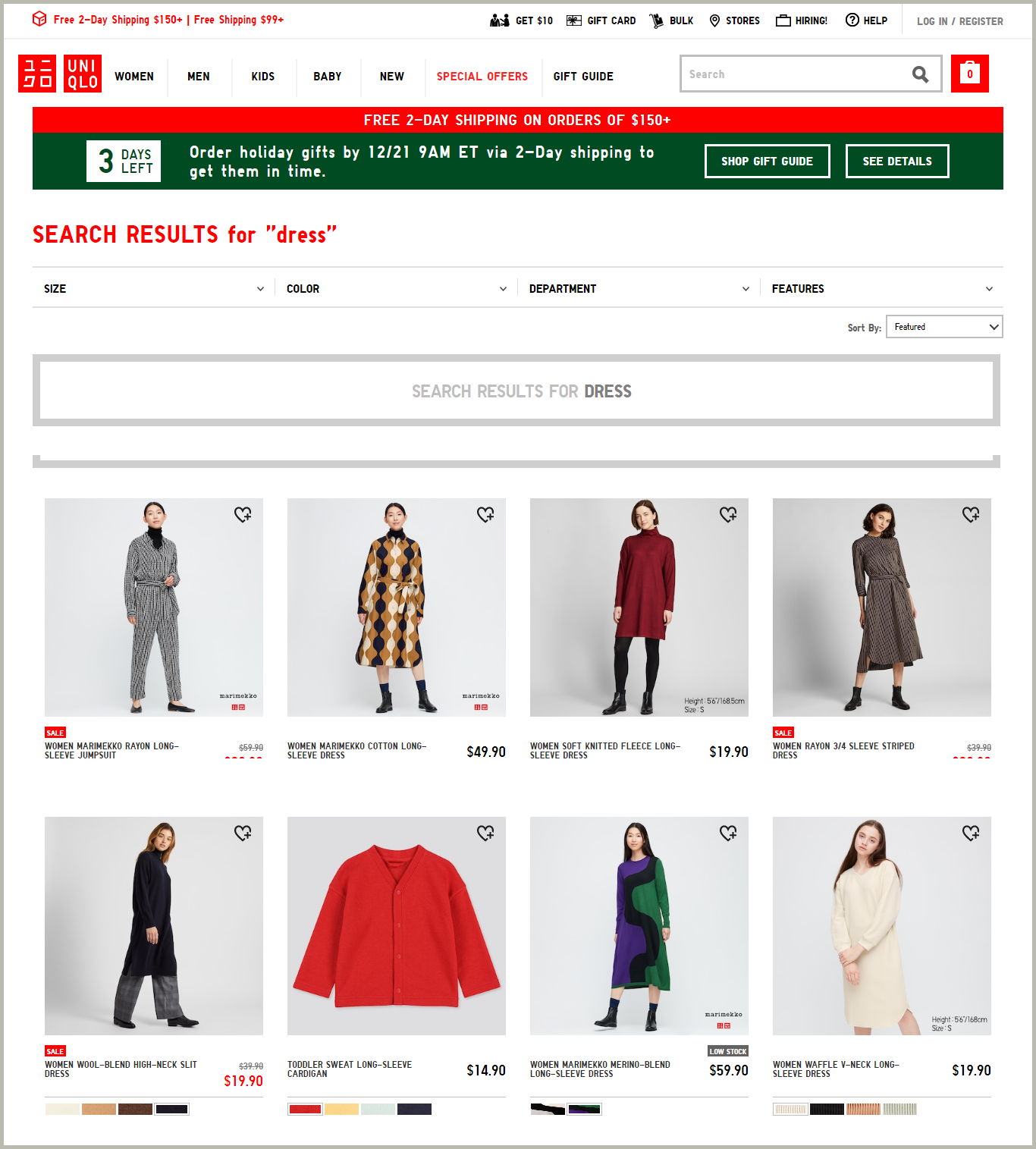 The Uniqlo US site will prioritize long-sleeve, knitted, and wool dress in November.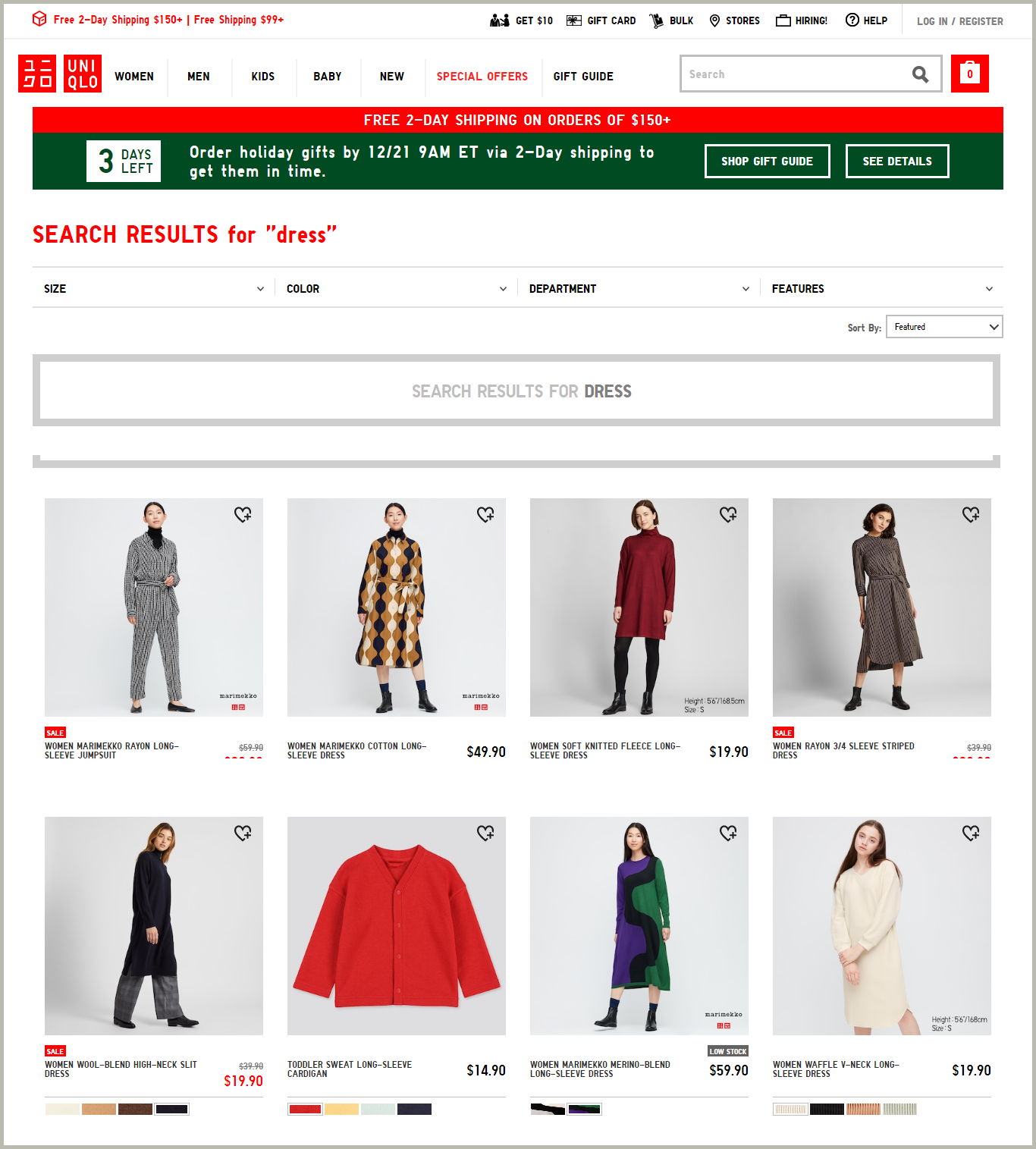 The Uniqlo Australia site will place sleeveless and short-sleeve dress on top in November.
Exclude product from search results It is sometimes necessary to manually exclude products from autocomplete and search results page for specific search terms. This way will get more correct search results as it is to exclude irrelevant products that causes misunderstanding for the search engine.
A visitor who searches for 'bag' on H&M site would naturally expect to find handbags come up in results, but definitely not look for 'paper-bag pants' or a 'top and shoulder bag'.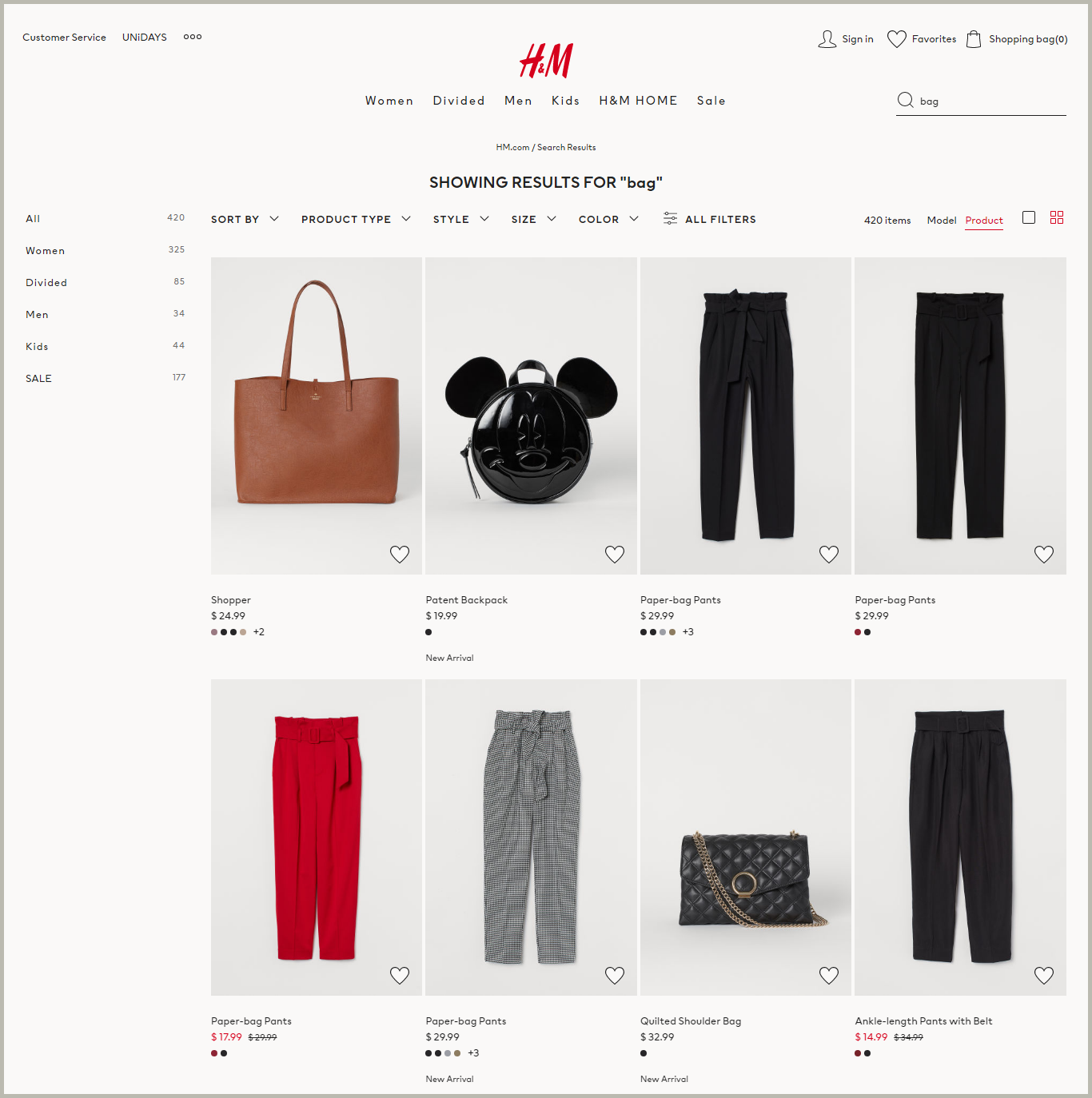 Credit: https://www.hm.com/
It's important to decipher the user query intent, not simply look for matching words in the product attributes. A typical example is Nordstrom. A search query for 'bag' display handbag, backpack, shoulder bag rather than pants or tops.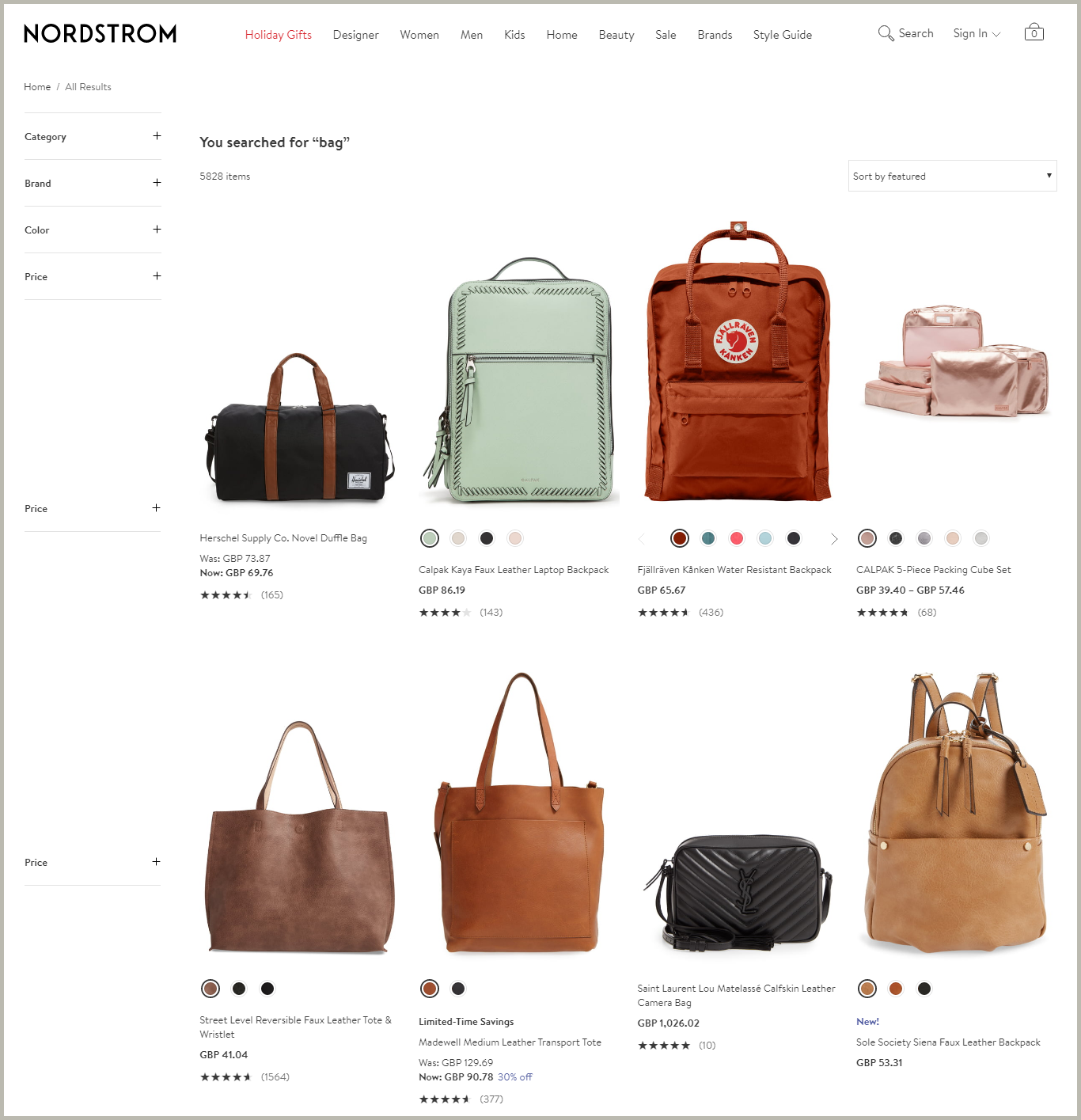 Credit: https://www.nordstrom.com/
3. Promotion banners on collection and search results page
The banner is the effective signage to capture the shopper's attention. Placing banner atop collection or search results page can help promote your marketing campaigns, special offers and increase product sales.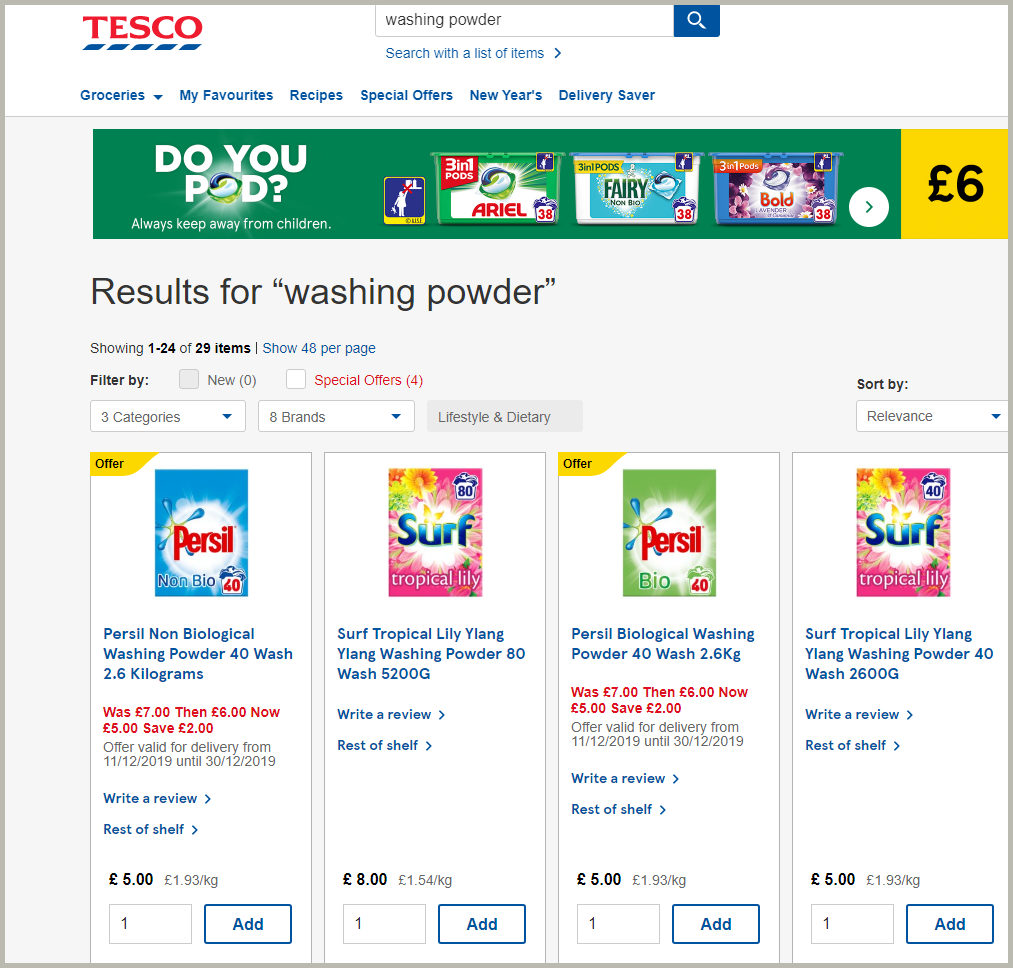 Credit: https://www.tesco.com/