As the Internet has accessed all corners of the world and smartphones have become an elemental part of our daily life, retailers found another way to sell their products and make money. It's eCommerce.
The rise of eCommerce is providing tremendous growth opportunities for millions of retailers in all sizes, from significant bricks-and-mortar players to small-scale cottage industries. The online business has opened up a boundless shopping world, providing consumers with the power of choice, whether domestic or cross-border.
The eCommerce market is entering a time of accelerated growth. The latest data from Statista suggests that worldwide retail eCommerce sales amount to $3.53 trillion in 2019, and e-retail revenues are estimated to grow to $6.54 trillion in 2022.
If you've been thinking about adding extra digits to your bank account or making money while at sleep, it's time to dive into the internet commerce pool. A new eCommerce store can expect to bring roughly $39,000 on average during its first month of business and achieve $6.5 million in total revenue after three years.
Now that you're ready to step in the online selling world, the first thing in this journey is finding a perfect eCommerce platform to start.
Whether you're just not selling online yet or you've owned a brick-and-mortar business for years, you've probably heard of the recent success of Kylie Jenner, Tesla, Nestle, and Budweiser. The secret sauce in their ascendancy is Shopify, a Canadian-based software company that handles every process needed to sell goods on the Internet from payments, billing to shipping, and logistics.
In this guide, we will give you an overview of what Shopify is, why you should choose Shopify, how to set up a Shopify store and optimize it to achieve a profitable eCommerce business.
What is Shopify?
First, before we go into the details of setting up a Shopify store, let's spend some minutes to understand what Shopify is and what makes it an ideal choice for online retailers.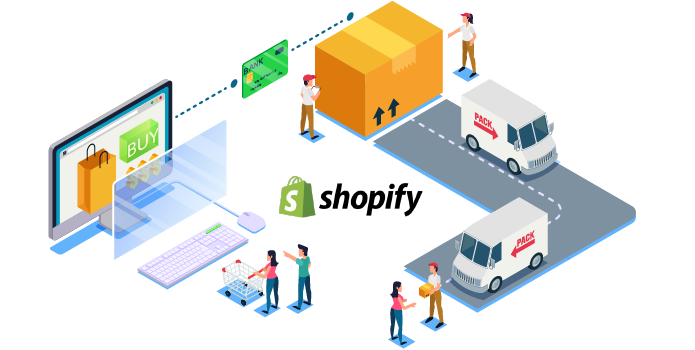 Credit: https://www.williams-sonoma.com/
Since launched in 2006, Shopify is now powering over 1 million merchants worldwide. Businesses built on Shopify generated $183 billion globally from 2016-2018. In 2018, Shopify merchants' online sales growth was 59%, more than double the growth of the global eCommerce market. There is a good reason why giant brands and entrepreneurs have chosen Shopify to run their online stores: It is a fantastic eCommerce platform that allows you to sell both online with your website or in-person with Shopify POS. One of the main ideas behind Shopify platform is that users without a technical background or design skills can create a stunning store by themselves. In short, the founders wanted to make online selling easy so that merchants can focus on what they are best at – and leave the technical concerns to others without costing the earth.
Shopify is in charge of the technical maintenance of your eCommerce store and makes sure it won't crash under the huge traffic and sales volume as your business grows. It's a scalable and reliable eCommerce platform as it can deal with any expansion of your store experiences.
What can you sell on Shopify?
Overall you can sell both physical and digital products on Shopify, from fashion, product manufacturing items, home-ware to membership, services, media, software, or document files.
There are some Shopify prohibited products and businesses, including:
Financial and professional services
IP Infringement, regulated or illegal products and services
Unfair, predatory, or deceptive practices
Government Services
Drug paraphernalia
High-risk businesses
Multi-level marketing
Pharmaceuticals or Pseudo pharmaceuticals
Video game or virtual world credits
Social media activities
Event tickets
Why choose Shopify?
Shopify brings many advantages to online retailers, and this has contributed a lot to its popularity. However, we are only listing some of its stand-out features:
1. Cloud-hosted
Shopify is a cloud-based solution, so you don't need to buy a web hosting, connect your SSL certificate and domain name. You can access your store anywhere, anytime, as long as you connect with the Internet.
2. Ease of use
Shopify offers a very user-friendly centralized dashboard for managing your products, inventory, payment processors, and processing orders in one place.
3. Offer a secure, built-in payment processing system
For an eCommerce store, online transactions become more critical to their overall businesses. There is nothing more painful than losing customers because of limited payment methods. Shopify removes the limitation by offering integration with over 100 payment providers around the world.
Today merchants in certain countries – US, Canada, the UK, Australia, can take advantage of Shopify Payments specifically for its eCommerce platform. Shopify Payments wipes out the hassle of setting up a third-party payment processor or merchant account and having to enter the credentials into Shopify. It allows you to start accepting all primary payment methods as soon as you create your Shopify store. There are many advantages to using it over a third-party payment provider such as no Shopify transaction fee, discounted credit card processing rates, real-time payment tracking.
4. Better SEO & Marketing tools
What good is an online shop if no one visits? Shopify makes sure that you won't be pulling down the virtual shutters by offering its robust Search Engine Optimisation (SEO) features to help your website rank higher in search results. Shopify creates 100% SEO crawlability & clean code. The advanced analytics will provide you insight into where your customers are coming from so you can tailor your marketing strategies accordingly.
The platform gives you access to a vast range of marketing tools, including social media integration, email marketing, discount, gift card, all in one place.
5. Excellent customer support
With Shopify, your business is never on its own. You get speedy and helpful answers as it offers 24/7 support through live chat, phone, and email.
Shopify Plans: Which one is right for you?
The Shopify platform offers five plans that are designed to meet the needs of different-sized businesses: Light, Basic, Standard, Advanced, and Plus.
Lite Plan – $9 per month: gives you tools for selling on Facebook and adding Buy buttons to any existing website. This plan does not provide you a real online store.
Basic Shopify Plan – $29 per month + 2.9% and 30¢ per transaction:allows you to sell an unlimited number of products and provides you a free SSL certificate, a discount code engine, manual order creation, shipping labels, unlimited file storage, and fraud analysis tools. This plan also contains "Abandoned Cart Recovery" - a tool sending out automated emails to customers who add products to the cart and leave without completing an order.
Shopify Plan – $79 per month + 2.6% and 30¢ per transaction: In addition to the benefits you would get with the Basic Shopify Plan, you gain access to gift cards, professional reports.
Advanced Shopify Plan – $299 per month + 2.4% and 30¢ per transaction: This plan has all the features from the Shopify plan along with an advanced report builder and third-party calculated shipping rates. It's the right option if you want to have real-time carrier shipping to charge the order based on the actual amount, shipping address.
Shopify Plus Plan – a minimum of $2000 per month + 2.15% per transaction or 0.25% of sales volume per month, maximum of $40,000/month
Shopify Plus is the enterprise-level system as it provides a fully hosted platform. Once you make more than 800,000 per month, the fee turns into a revenue-based model, which costs you 0.25 % of your monthly revenue, capping at $40,000 per month.
Shopify Plus can handle over 10,000 transactions per minute and ensure that a large-volume site will not crash. Moreover, it allows merchants to customize the entire checkout flow fully.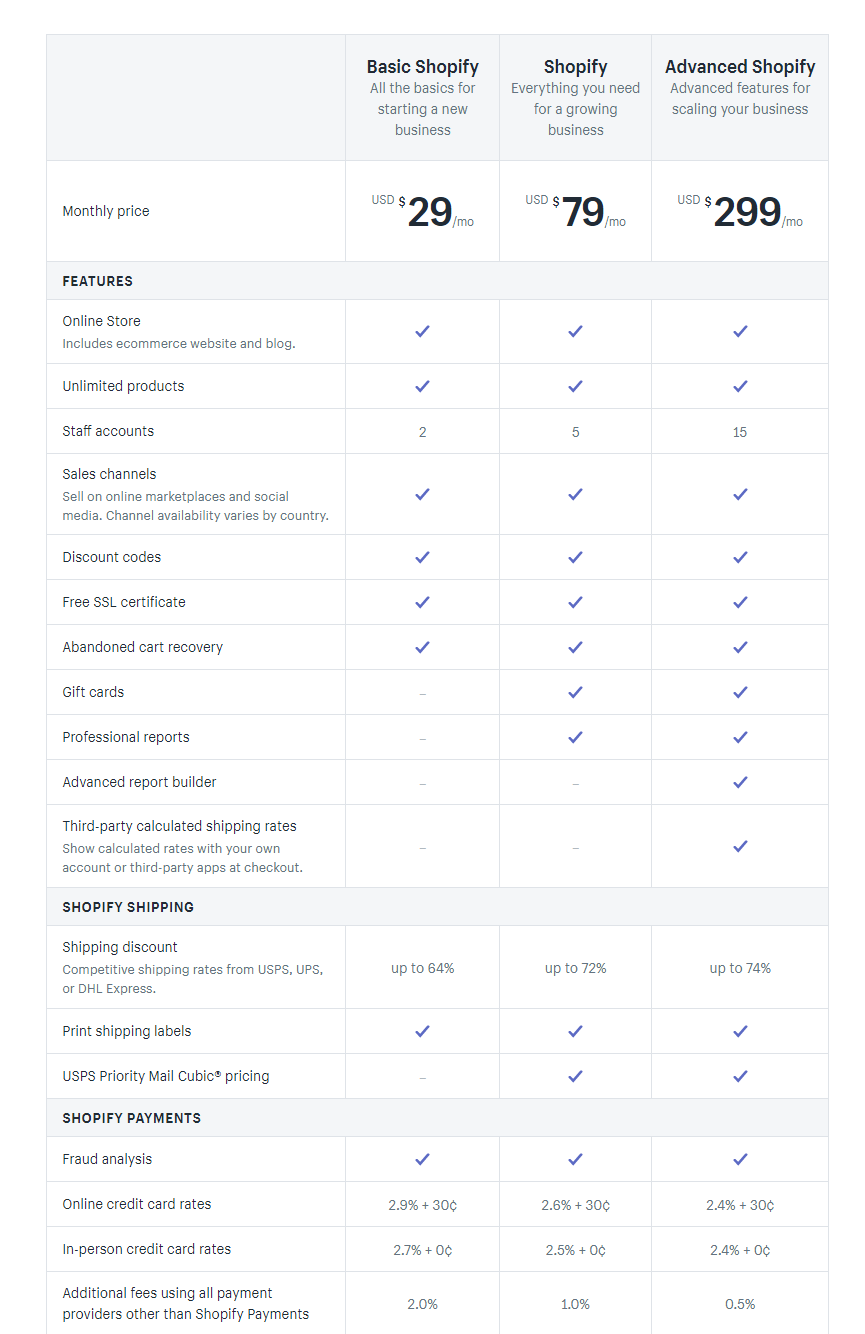 Guide on How to Sell on Shopify
After getting an overview of the Shopify platform and its features, are you ready to build your online store? Follow these initial steps on how to sell on Shopify and get you a highly conversion-focus store straight away:
Sign up your Shopify account
Add your products
Choose a theme for your store
Set up your domain
Install apps to optimize your store
Preparing your Shopify store for the launch
Launch your Shopify store
1. Sign up your Shopify account
The first step to building a store on Shopify is account registration. Access to the Shopify website, and click on the Get Started button. It offers a free 14-day trial and requires no credit card information.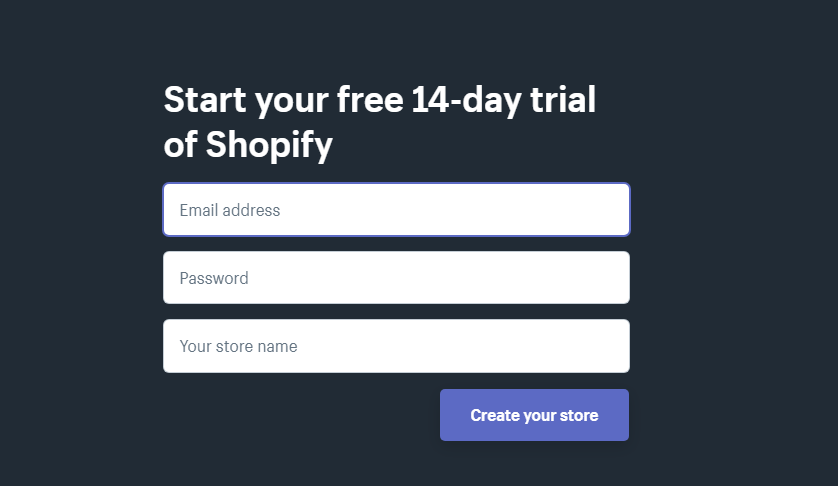 Fill in your email address, password, and store name. An email address can be used multiple times for different accounts, but each store has its account and settings. The store name must be unique. Your Shopify store name will become your domain name by default, but you can change the domain later.
Once you fill in all credentials, you will be brought up to tell Shopify about yourself and your current business. You can skip this part, but the information you provided will help Shopify recommend the best course for your business development.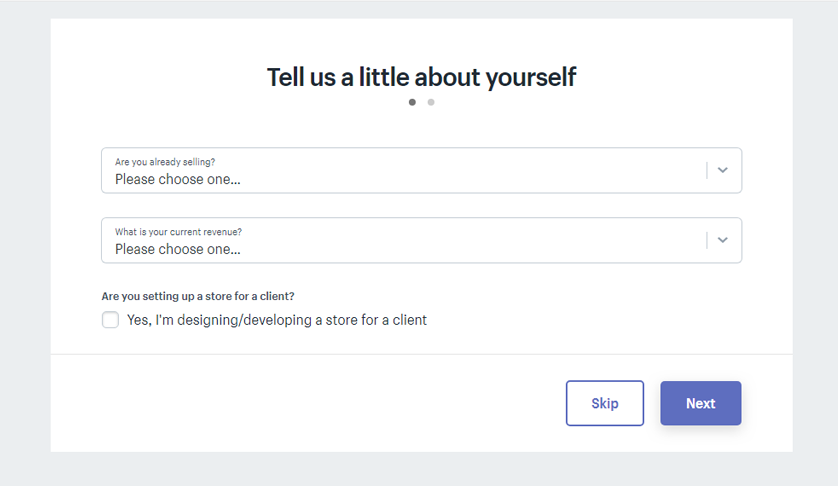 The following page requires you to fill in personal information such as your name, phone number, and address, which is used to configure currencies and tax rates. If you need to change the currencies, time zone, and tax rate, you can edit the store settings at the admin dashboard.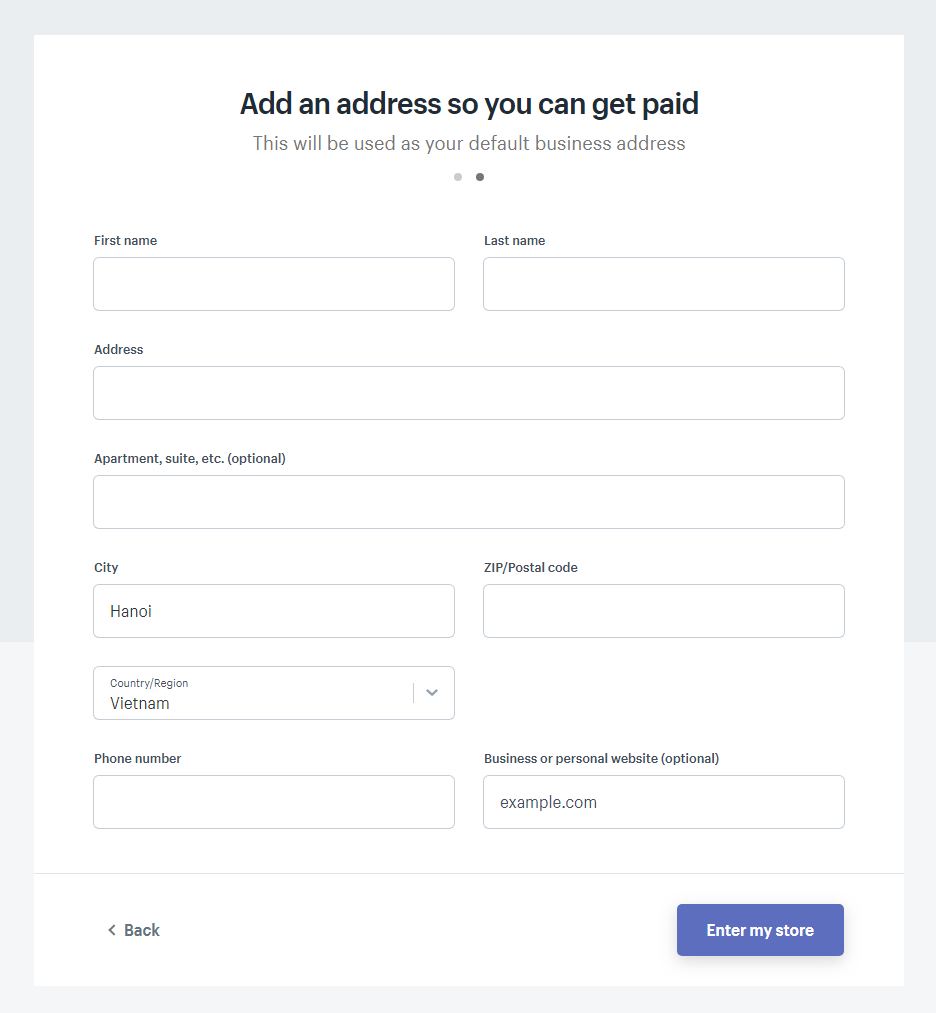 2. Add your products
From your Shopify admin, click Products to go to the Products page. There are two options for you: Manually add products or Import products from CSV file.
![add products to shopify store](/Sites/UsfWebsite/Data/Blog/Media/how-to-sell-on-shopify-the-ultimate-guide-to-success/selling-on-shopify-add product.png)
Manually adding products: From the Products page, click Add product. Enter a title, product descriptions, vendor, images, prices, and more. Click Save product.
Import products: allow you to bulk upload products from CSV files. Remember, the data must match the Shopify CSV sample format. Check the official guide from Shopify on how to fill the CSV information.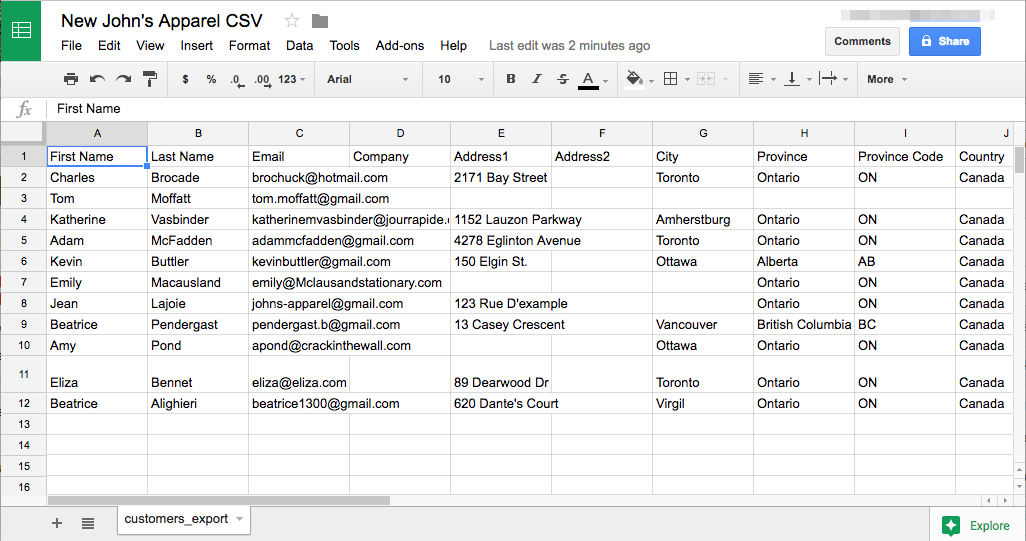 Set Up Collections A collection is a group of products offering the same features, so your products will be organized, and convenient for your customers to search in your store. You can help customers find and view collections by adding their links to your site navigation menu.
There are two options for creating Collections: manual and automated. An automated collection allows using selection conditions to add matching products automatically. A manual collection provides a way to add specific products and contains manually. The product list will not change unless you add or remove them.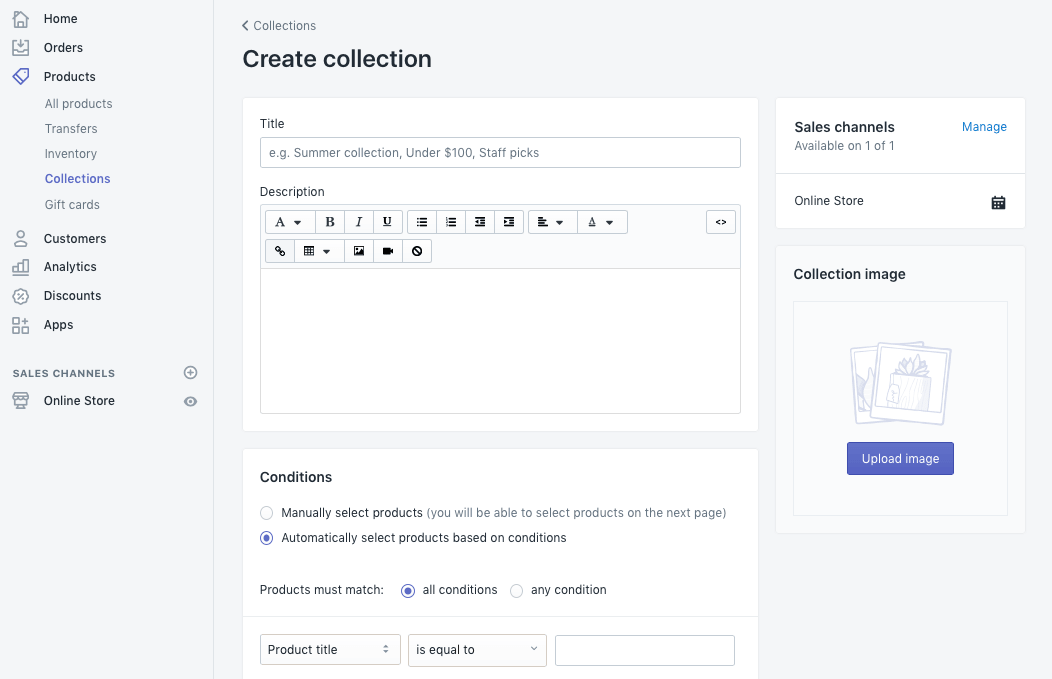 3. Choose a theme for your store
Shopify themes are templates that determine the look and feel of your store. Beside the Default theme on the Admin page, there are many options for you to choose. Depending on your current Shopify plan, it's possible to add many themes to your store, but only one of them can be published at a time. When published, the theme will have an immediate impact on your storefront, and customers will see it when they visit your online store. The new theme will appear in the Current theme section of the Themes page, and your previously published theme moves to the Theme library section.
You can customize themes to match your brand style by clicking the Customize button under Themes. If you have no coding experience, then Shopify has a network of Shopify experts who can help you build and customize the theme to fit the unique needs of your business.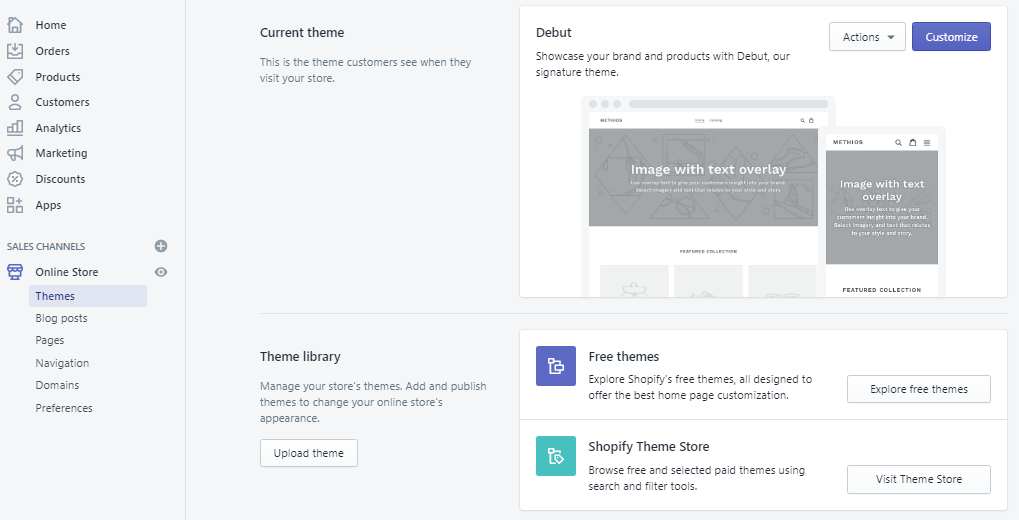 4. Set up your domain
The store name you chose when you registered a Shopify account is initially set as your primary domain in the format: https://yourstorename.myshopify.com. While you can still run your site under this address, using a custom domain name will be much more professional and SEO-friendly.
You can either buy a custom domain from Shopify or a third-party. Third-party providers cost cheaper but require you to edit the name servers and "DNS" records. Purchasing a domain name from Shopify is easier to implement for non-technical merchants. If you already have a registered domain, you can follow Shopify's stepby-step instructions to complete the configuration. Upon activation, your storefront will show your chosen primary domain to your visitors.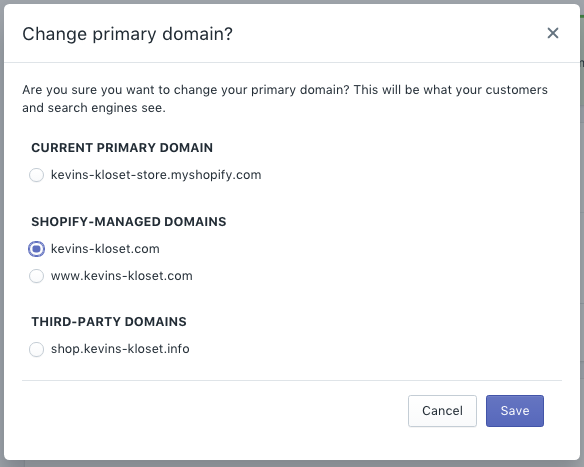 5. Set up Payment Methods & Shipping
When starting an eCommerce business, you should think carefully about how to set up payment methods to meet customer needs and manage your cash flow effectively. With Shopify, you can create a variety of payment methods, including cash on delivery, money orders, bank transfers, and online payment gateways such as Shopify Payments or a third-party provider.
Payment provider: Clicking on the 'Settings' on the left sidebar, you'll find 'Payment Providers.' You can choose to use Shopify payment (only available in certain countries) or a third-party provider. Remember, each payment provider will charge varying amounts in credit card fees on top of Shopify's transaction fees.
Manual payment method: If a customer chooses a manual payment method at the checkout, his order is marked as unpaid on the order page. After you receive payment for this order, you can mark it as paid.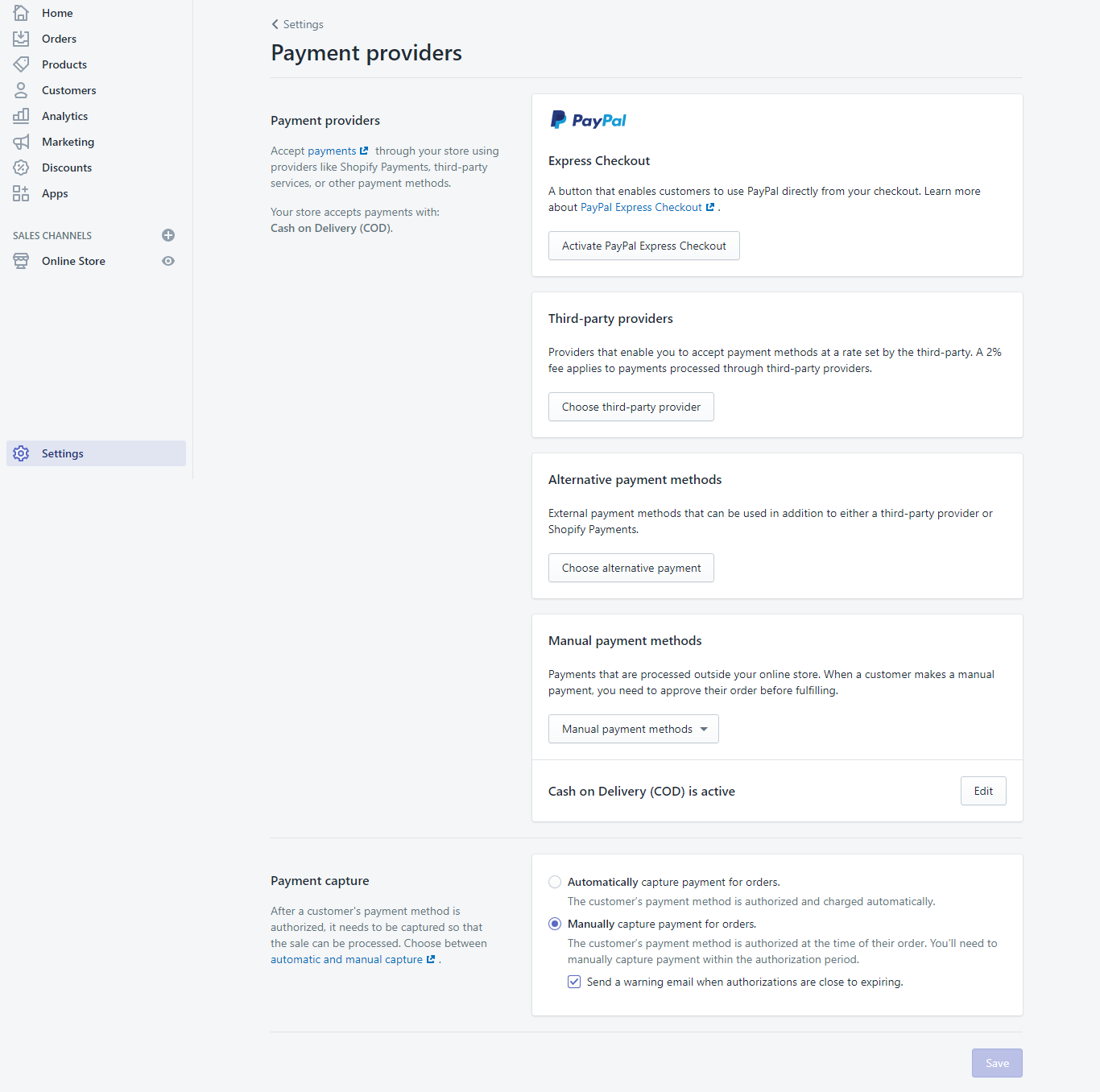 Shipping rates: If you are selling physical products on Shopify, shipping plays an essential part of your online business strategy. Spend time to decide what shipping strategy you want to use and what shipping rates to offer your customers.
Under 'Settings' on the admin page, click 'Shipping' to configure the shipping rate on your Shopify store. You can create as many product-based shipping profiles, zones, and add multiple rates to each zone. There are three options for you to choose, including price-based rate, weight-based rate, and calculated rate.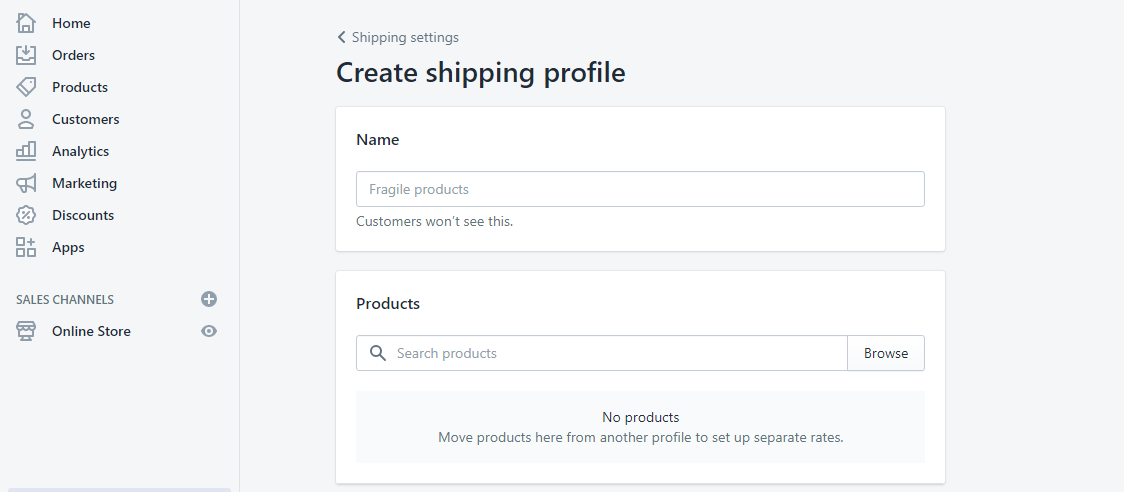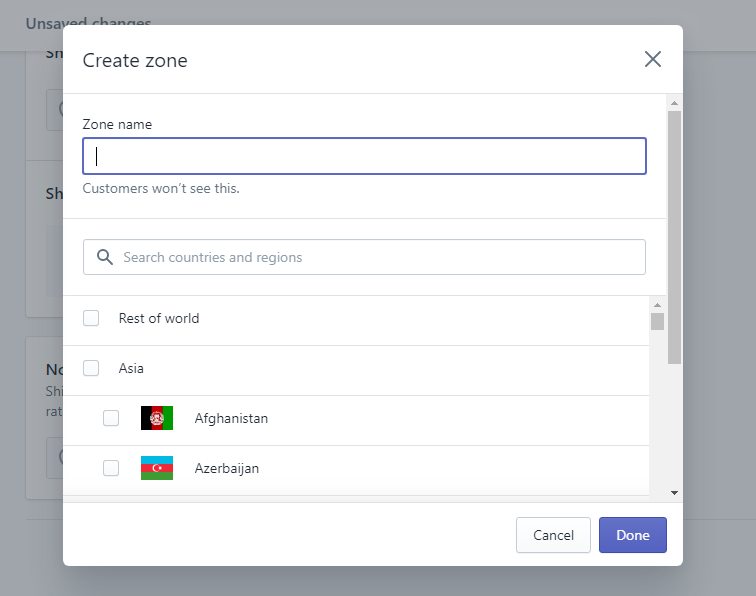 If your store is on the Advanced Shopify or the Shopify Plus plan, you can show realtime shipping rates from your carriers such as USPS, UPS, DHL Express, FedEx, etc.
6. Install apps to optimize your store
The Shopify platform has the basic essential functions for an online store. If you want to have better user engagement and increase customer satisfaction, you should consider installing Shopify Apps to give your store more advantages over your competitor. Without a strong foundation of critical apps, you may risk missing out on features and even potential sales opportunities.
Shopify App Store has a large number of Apps to help you extend the functionality of your online store and keep up with new technology trends to survive the eCommerce industry. From Store Design, Marketing, Sales, Orders, Shipping, Inventory management — there are many tools that you can use to help your business grow and scale-up.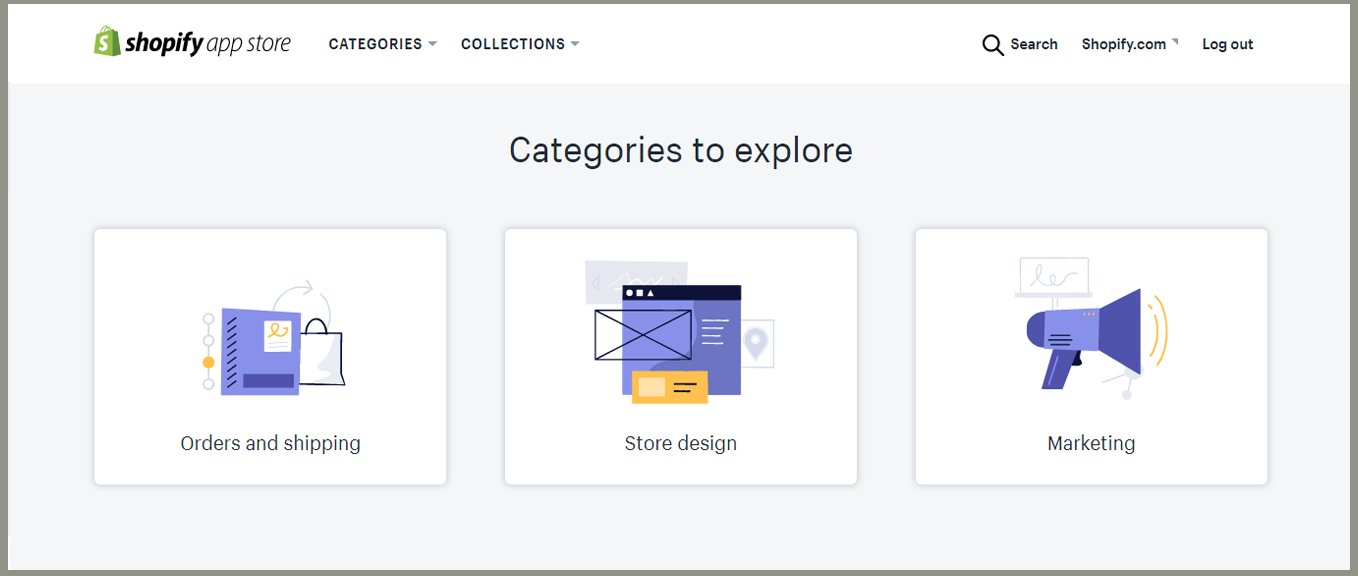 7. Prepare your Shopify store for the launch
After you have completed building your stunning and prepared all your products, are you ready to go? Before launching your store, you should place some test orders to make sure that your settings for every part of your store are working correctly. When everything is perfect, remove the password on your store and open it to the public.
Placing a test order is the way to ensure that the check out process and all your settings for order processing, inventory, shipping, notification, email, and taxes are all running smoothly. Charges are not applied to test orders. You should place at least one test order while setting up your store setup, or whenever you make any change to your payment settings.
To test your system, you can simulate a transaction using any of these three ways.
Use the Bogus Gateway, a payment provider that store owners can use to create test orders.
Place a real order through your payment provider, and then immediately canceling and refund the order.
If you use Shopify Payments, then you can test your configuration by enabling the test mode.
8. Launch your Shopify store
Once you have set up everything correctly and check them many times, it's time to flip a switch and start launching. On the path to achieve success, there will always be something to change or improve - but this guide will get you off to a solid start.